Lesson 11: Door Hardware - Part 1
Electronic door locks
Electronic door locks are locks that can be activated by an electrical signal. Electronic door locks are being made for every grade and function. Some do not require a key and cylinder; however, more electronic door locks with an integrated key and cylinder are being installed on residential and commercial doors. This means that the lock can either be activated with an electrical signal (via access card or button combination) or manually with a key. High end electric door locks have advanced computer technology integrated into the mechanics. These locks can be programed to track who has been accessing the door, create time slots and holiday schedules in which access codes are permitted, and more. There are many different types of electronic locks, each with their own operating instructions. Become familiar with the most common electronic locks for each grade.
How to Service an Electronic Door Lock
The Weiser Powerbolt is the most common door lock that you will encounter. This residential grade deadbolt has an electronic push button combination and a mechanical key, each able to draw the latch. The back of the lock has a thumb turn and battery case. To install the Power Bolt, follow the deadbolt installation guide in the previous chapters but with a few distinctions.
When you are drilling, make an additional hole about 1" in diameter just above the deadbolt hole. When you are assembling the Powerbolt you will thread the wiring from the punch button combination faceplate through the hole and into the electronic components that are within the battery pack housing. Make sure your faceplate and battery housing are parallel with the edge of the door.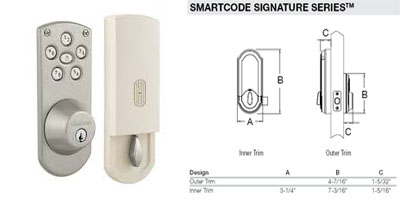 How to rekey an electronic door lock
To rekey the Powerbolt you must first disassemble the lock before rekeying the cylinder. To disassemble the lock, start by removing the battery cover plate. Grab the bottom of the battery cover plate and pull out and up to remove it. From here you should see 4 screws that are keeping the batteries and electronic components attached to the door. Remove these screws to free the battery housing from the door. The battery housing is attached to the push button faceplate via a series of wires. These will need to be unplugged from the battery in order to continue. From here the lock disassembles from the door like a regular deadbolt. Remove the two retainer bolts to access the cylinder and rekey as normal.
To reassemble the lock, attach the cylinder back onto the door by threading the retainer bolts on. Reconnect the wires to the battery housing and reattach the battery housing to the door. Slide the battery cover plate down over the batteries and push down to click it into place.
To recode the electric push button combination, follow the reprogramming instructions found underneath the batteries inside the battery housing.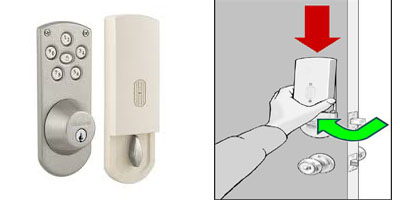 Lesson 11: Door Hardware
All Lessons