Motorcycle Locksmith: How to make keys to a Kawasaki Ninja Motorcycle | Mr. Locksmith™ Blog
Signup for my Locksmith On-Line Course "How to Pick Locks" at https://www.mrlocksmithtraining.com/product/how-to-pick-locks-online-course/
Coming soon: On-Line "How to Make Keys to Motorcycles.
2009 Kawasaki Ninja 250
Note: same Key blank 2008+ Kawasaki Ninja 250 Motorcycles
The Kawasaki Ninja 250 is a motorcycle in the Ninja sportbike series from the Japanese manufacturer Kawasaki originally introduced in 1986. As the marque's entry-level sportbike, the motorcycle has undergone few changes throughout its quarter-century lifetime, having received only three substantial redesigns.
2009 Kawasaki Ninja 250CC. The customer had lost the key. Only one key fits all the locks, Ignition, gas cap and the seat compartment
I use the Kawasaki AccuReader to determine the wafer depths to cut a key by code on the Miricle A9s. Never, never impression the Motorcycle ignition. The wafers are too fragile and are easily bent.
I would normally us the KM10 Accu-Reader in the ignition, however, this ignition has opposing wafers, so slightly harder to read.
The Kawasaki ignition on this bike is extremely sloppy to read, maybe too much wear, so I will determine the gas cap depths and then use Black Hawk software to do a "fill" to determine the ignition key. The seat compartment is usually the same cuts as the gas cap.
2009 Kawasaki Ninja 250C
AccuReader: KM10
Ilco Key Blank: KA33.
Key, Depths and cut spacing is in the FastFax book.
Black Hawk online for the key code, if available and to do the "fill"
Ignition = 1-8
Gas Cap= 3-8
Seat Compartment = 3-8
USING THE ACCUREADER
1 Insert AuccReader Use the alignment holes through the AccuReader
2) Place the insertion/release slide in the slot on the AccuReader key and fully insert the AccuReader key into the keyway and remove the slide. If the AccuReader pulls out some before it traps a wafer, remove the AccuReader and insert it on the opposite side. It should now trap a wafer with the key fully inserted.
3) Always start reading with the #3I depth slide tool, then proceed to #2I if necessary. Fully insert the depth slide into the AccuReader key. The alignment mark on the depth slide will line up with the
(Y) Yes mark or it will line up with the (N) No mark.
4) Repeat steps for each wafer position until you have recorded the depth for all 8 wafer positions.
And again, that's the Accu-Reader tool. Absolutely love it. And it's made us some money here.
Mr. Locksmith Automotive services that our Motorcycle locksmith provide:
– Lost Keys to Motorcycle No Spare
– Duplicate Motorcycle Keys / Motorcycle Key copy
– Broken Motorcycle Key
– Code Key to Motorcycle
– Finding your Motorcycle Key Code
– Gas Cap Key
– Motorcycle Helmet Lock Key
For further information go to Mr. Locksmith Automotive https://automotivelocksmiths.com/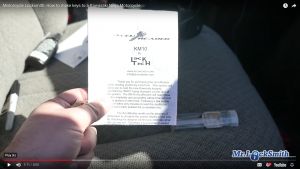 Mr. Locksmith™
Terry Whin-Yates is a 3rd Generation Locksmith with a BA (Hons) Criminology. He has 35+ years experience in the locksmith and security industry and is a locksmith trainer providing On-LIne and Hands-On locksmith training to individuals, locksport, groups, businesses and Law Enforcement Agencies across North America and Asia. Terry Whin-Yates' BC Security License is B4227.
BECOME A LICENSED MR. LOCKSMITH
Licensing Opportunities with Mr. Locksmith…the key to unlocking YOUR success!
Mr. Locksmith Locksmithing and Security Systems is looking for individuals with drive, determination and ambition to become part of our team of successful licensees. Prior locksmithing experience is an asset…but not necessary. Mr. Locksmith will train you in ALL aspects of running a successful business in our Professional Locksmithing College.
Mr. Locksmith and Mr. Prolock is the anti-franchise opportunity. So how does licensing differ from buying a franchise? Simply put, it's a hassle-free, agreement with no costly monthly expenses, no binding corporate purchases, no residuals and no royalties paid back to the franchisor. All you have to pay is a low monthly fee for licensing and maintenance of your personalized website and social media presence. Think of it as financial freedom…without the fuss! And, Mr. Locksmith / Mr. Prolock is a proven, recession-resistant business!
A third-generation, internationally-renowned locksmith, Terry Whin-Yates is with you and your new enterprise 100% of the way! When you become a licensed Mr. Locksmith, you're not working for FOR a company, you're working WITH a team of helpful, expert professionals…whenever you need us. And, we'll provide all of the comprehensive training you'll need to get started and soon become a certified locksmith with Mr Locksmith.